Dit document is in 2014 geschreven. Het is eerste instantie gebruikt om een nieuwe (meer sociale) strategie voor de ABN AMRO te ontwikkelen. Het is later gebruikt als discussie-stuk toen er sprake was van het oprichten van een coordinerend Centrum voor Vitaliteit in Leiden.
Dit centrum was bedoeld om lokale centra op te richten waarbij er aandacht werd besteed aan de samenhang tussen de geestelijke, lichamelijke, sociale en economische gezondheid van de mens in alle levensfasen.
Als laatste is een deel gebruikt als discussiestuk voor een Smart City-beleid in Den Haag. Hier werd aangetoond dat Smart City niet alleen een besturingsmodel is maar dat net als bij de Vitaliteit het lichamelijke, het sociale en het creatieve van de mens een rol moet spelen in het "slim" aanwenden van Smart Technologie. Een stad is net als de mens een organisme.
Het document is gebaseerd op de verander-methodiek Paths of Change (PoC) van Will McWhinney. De wereldbeelden van PoC hebben in dit document overal dezelfde kleuren: Blauw/Unity/Regels/Waarheid, Rood/Sensory/Waarnemen, Groen/Sociaal/Waarderen en Geel/Mythic/Verbeelden.
PoC maakt het mogelijk om met behulp van steeds hetzelfde model heel verschillende vraagstukken op te lossen.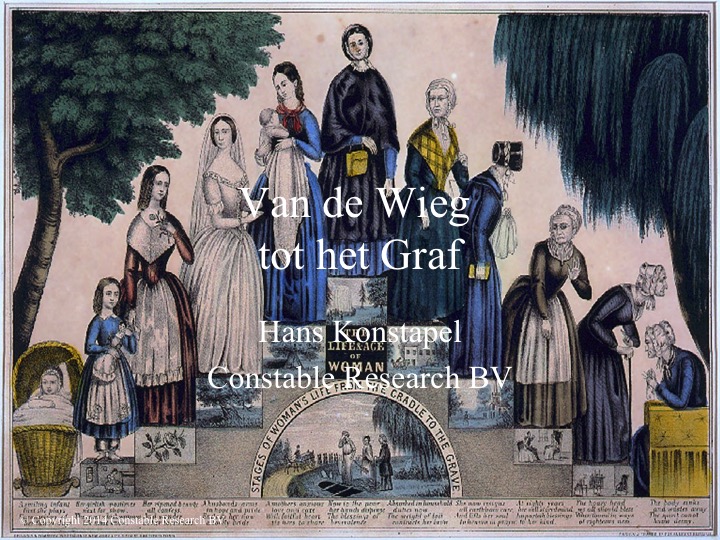 1. Inleiding: Op weg naar de participatie maatschappij
In het verleden vond het contact tussen klant en bank meestal plaats in kleine wijkgebonden kantoren. De directeur van een vestiging fungeerde als steun en toeverlaat voor de kleine zakelijke- (MKB) en particuliere klanten. Op deze wijze werden de meeste financiële calamiteiten voorkomen.
Op dit moment heeft de bank de wijk verlaten en wordt de klant geacht gebruik te maken van geldautomaten en het Internet. Om dit waar te kunnen maken zijn de bankproducten gestandaardiseerd waardoor het autorisatieproces vrijwel automatisch en dus context-onafhankelijk plaatsvindt. Bankieren is niet meer een klantgedreven maar een datagedreven proces geworden.
Inmiddels is de overheid bezig om een groot deel van zijn sociale taken met aanmerkelijk minder geld over te dragen aan de stad die ze wijkgebonden maakt. De sociale taken van de overheid moeten dichter bij de burger worden gebracht en worden ondergebracht in een wijkcentrum of een winkelcentrum.
De traditionele kerken in Nederland krimpen omdat hun leden ouder worden en overlijden. Het diaconaat binnen de kerken houdt zich in zijn regio, meestal wijkgebonden, bezig met eenzamen, armen, zieken, werklozen en andere medemensen die een moeilijke tijd in hun leven doormaken. Door de krimpende kerk wordt de onbaatzuchtige hulp aan de medemens steeds minder.
Uit het diaconaat zijn vele organisaties ontstaan die dreven op giften, subsidies en vrijwilligers. Sommige van die organisaties, zoals ziekenhuizen en  de ontwikkelingshulp zijn sterk geprofessionaliseerd en hebben zich van hun wortels losgemaakt. Ze worden nog steeds grotendeels uit het overheidsbudget bekostigd.
De bijdragen uit het overheidsbudget die richting deze organisaties gaan worden minder en moeten volgens de overheid net als vroeger worden gecompenseerd door sociaal ondernemerschap, giften en de inzet van vrijwilligers.
Om hun hoge vaste lasten te kunnen dragen moeten de meeste partners beiden werken waardoor ze weinig tijd over hebben voor kinderen en hun oudere ouders. De zorg voor de kinderen wordt overgelaten aan de kinderopvang en de school.
De zorg voor de ouderen is uitbesteed aan de gezondheidszorg. Ook hier lopen de budgetten terug en moet de burger zich als mantelzorger gaan inzetten voor zijn zieke familie, vrienden en buurtgenoten.
De zowel qua inzet als financiering krimpende sociale hulpverleningssystemen zijn in deze tijd van crisis juist meer nodig dan in de tijd van hoogconjunctuur.
De enige manier om dit probleem op te lossen is door een totaal nieuwe weg in te slaan. Die weg kan gevonden worden door moderne technologie te koppelen met medemenselijkheid.
2. De Mens is een Relatie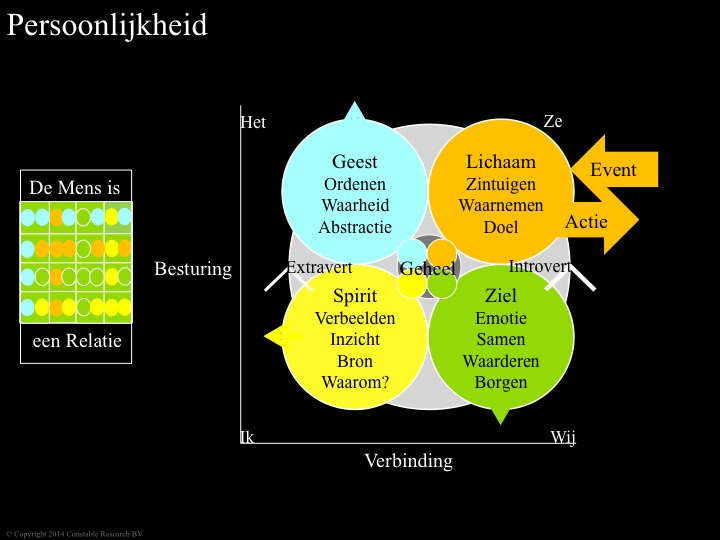 We beginnen bij de mens zelf. Een mens wordt gekarakteriseerd door zijn persoonlijkheid. Die persoonlijkheid is een combinatie van drie kenmerken, n.l.
(1) Richting Rotatie: Introvert/naar Binnen gericht, Linksdraaiend (<-) vs Extravert/naar Buiten, Rechtsdraaiend  (->) gericht
(2) Afstand: Geheel/Observator Boven de Wereld vs Deel/Ervaren In de Wereld en
(3) Psychische Functie: De psychische functie wordt beschreven door twee variabelen die Agency (Besturing) en Communion (Verbinding) worden genoemd.
Ze vormen samen vier functies die ieder een andere richting op bewegen (bv. Geest, Naar Boven, Abstractie of Ziel, Naar beneden, Depressie, Aarde) en samen een richtingsvector bepalen die de mens als staande golf door de Tijd/Ruimte stuurt.
De persoonlijkheid van de  mens is een relatie tussen deze twee functies in combinatie met de Draairichting en de Afstand.
De functies worden Geest/Ordenen/Waarheid, Lichaam/Waarnemen/Handelen (Sensory Motor Systeem), Spirit/Verbeelden en  Ziel/Emoties/Waarderen/Samen, genoemd. Een combinatie tussen Verbeelding en Ordenen wordt een ontwerper genoemd.
Als er twee gelijke functies worden gekoppeld is de mens psychopathologisch. Het ordenen van het ordenen wordt bijvoorbeeld Paranoïde genoemd.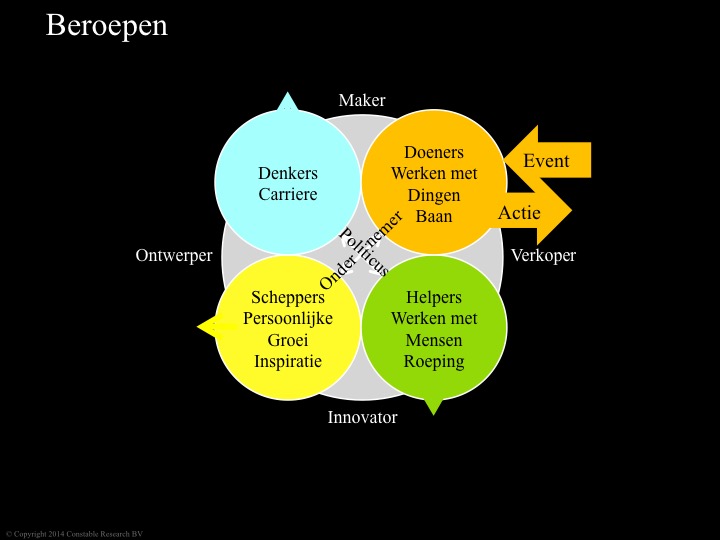 John Holland ontdekte dat de persoonlijkheid sterk voorspellend is voor het beroep. Daardoor kunnen we met behulp van bovenstaand persoonlijkheidsinstrumentarium ook veel zeggen over bedrijfsculturen.
Met als mogelijke verklaring dat mensen de geschiedenis maken blijkt het ook mogelijk te zijn om het model van de persoonlijkheid te gebruiken om korte en lange cycli te beschrijven en te voorspellen.
3.  De Mens in Crisis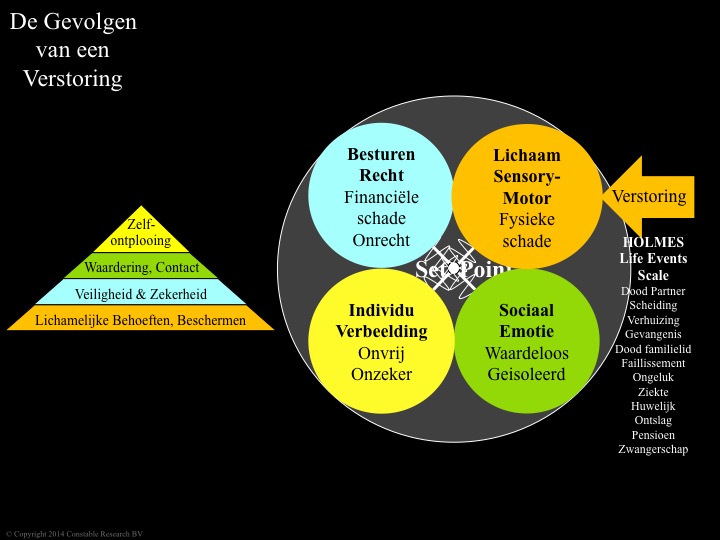 De Life Event Scale van Holmes bevat de gebeurtenissen die de meeste invloed hebben op de mens. Deze gebeurtenissen kunnen meerdere van de psychische functies raken.
De psychische functies van de mens zijn tegendelen die elkaar aantrekken en afstoten. Het persoonlijkheidssysteem van de mens fluctueert daarom rondom een evenwichtspunt, het set-point genoemd. De krachten die tussen de verschillende onderdelen spelen en daarmee de bandbreedte van de golven zijn per mens verschillend. Sommige mensen (Kinderen, Ouderen, Zieken) zijn kwetsbaar.
Als een gebeurtenis een te hoge schok veroorzaakt reageert de mens in eerste instantie niet (freeze). Daarna volgt ontkenning en agressie (fight). Na een depressie begint men om de nieuwe situatie weer te waarderen, te exploreren en te accepteren.
De traumatische fase kan bij kwetsbare mensen vele jaren duren. In deze periode is men niet in staat tot productieve arbeid. Het is de kunst om extreme gebeurtenissen en de negatieve effecten daarop te voorkomen of te verhelpen. Dit kan gebeuren door therapie en verzekeren.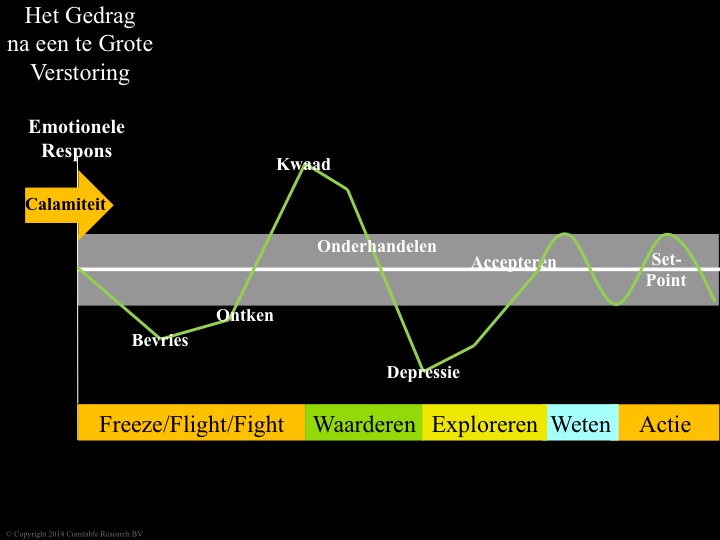 4. Sociale Netwerken zijn soms Sociaal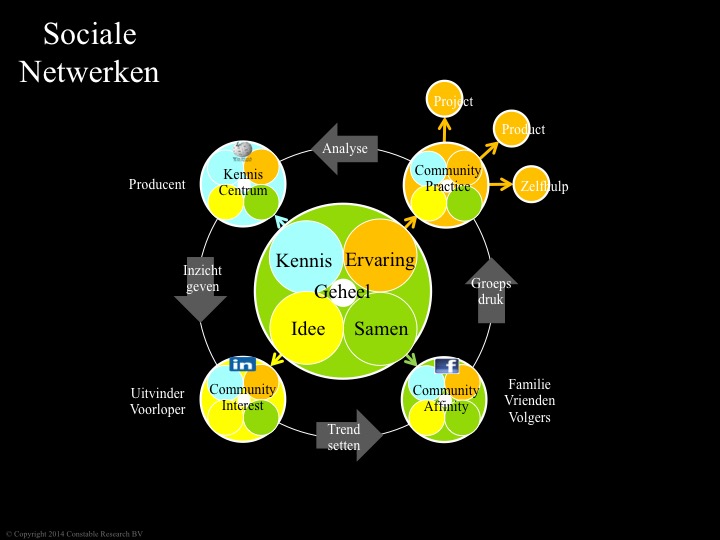 Mensen zoeken vergelijkbare mensen op en vergelijkbare mensen hebben vergelijkbare persoonlijkheden.
Aangezien persoonlijkheden erfelijk zijn vindt de meest voor de hand liggende koppeling plaats met familie en andere mensen die sterk (genetisch) op elkaar lijken. Dit wordt een Community of Affinity genoemd. De leden van Facebook vormen een dergelijk netwerk.
Linkedin is een hulpmiddel waar mensen hun interesses en inzichten delen (Community of Interest) en Wikipedia bevat gedeelde kennis (Kenniscentrum).
Ervaring ontstaat als mensen een fout maken en van deze fout leren. Een fout is een afwijking van een verwachtingspatroon. Een succesvolle vorm van ervaringsdelen is de zelfhulp-groep.
De sensory-motor component van de mens is expansief en is het complement (het tegendeel) van de ordelijke kant.
Terwijl de ordenende component steeds comprimeert (analyse) en daarmee de werkelijkheid versimpelt ontstaan er steeds weer nieuwe vormen van praktisch toegepast handelen die de werkelijkheid complexer maken. Netwerken waar ervaring wordt gedeeld worden een Community of Practice genoemd.
Als we naar de persoonlijkheidstheorie kijken zien we dat de deelnemers aan een Community of Affinity en een Community of Practice samenwerken terwijl ze in de andere netwerken als individu optreden.
Het concept van de coöperatie past perfect bij de sociale sociale netwerken.
De Communities of Practice leven niet lang. Het zijn veel meer tijdelijke projectorganisaties die na het behalen van hun doel weer worden ontbonden of worden overgedragen aan een producent.
5. Van Hulp naar Levensloopbegeleiding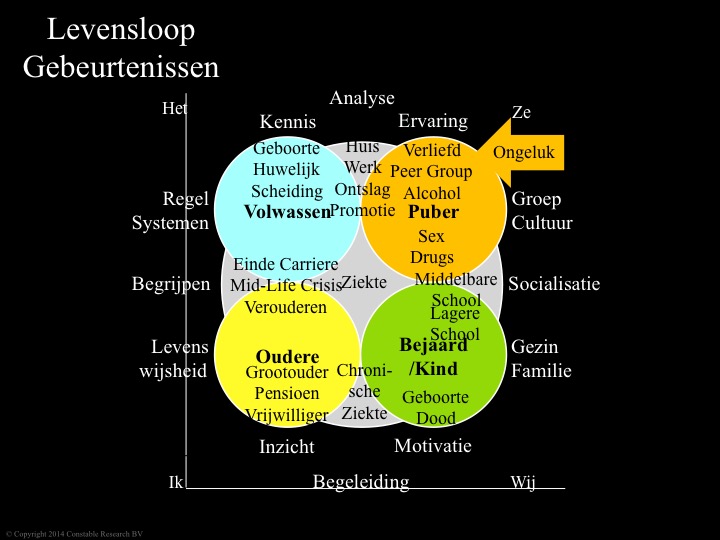 Het leven is een introvert ("naar binnen gericht") proces en begint en eindigt in een staat van volledige afhankelijkheid (Low Agency, High Communion, Wij).
In de eerste fase van de levensloop vindt het proces van socialisatie plaats,  eerst in de context van de ouders en later in de eigen groep (de cultuur).
In de pubertijd neemt de behoefte om zich los te maken van ouders en familie toe (Agency,Ze) en richt men zich vooral op gelijksoortigen (de peer-group).
Aangezien het "erbij horen" de hoogste prioriteit heeft neemt men onnadenkend ook veel negatief gedrag over en zet men zich zeer nadrukkelijk af tegen de gevestigde orde, de volwassenen.
Tijdens de pubertijd vindt de laatste training plaats voor de volgende fase. Als jongeren sterk negatief worden beïnvloed door hun soortgenoten wordt deze fase niet afgerond en worden ze een drop-out die moeilijk aan het werk komt.
De persoonlijkheid trekt zich niets aan van de levensloopfasen. Er zijn mensen die altijd kind of puber blijven of weer puber worden (midlife-crisis).
Aangezien de persoonlijkheid ook bepalend is voor het beroep is het mogelijk om in iedere fase van de levensloop begeleiding te bieden met de juiste leeftijd.
Theoretisch hebben oude mensen in het begin van hun fase nog genoeg energie en de meeste levenswijsheid. In een groot aantal culturen wordt hiervan gebruik gemaakt door het  drie-generatie-systeem te hanteren.
Het principe van het drie-generatie systeem wordt in Nederland gebruikt bij de begeleiding van mensen die socialisatie-problemen hebben ("Op eigen kracht").
Het huidige schoolsysteem is nog gebaseerd op de tijd van de massaproductie van de Industriële revolutie en lijkt op de fabriek waarvoor de arbeiders en managers geschoold moeten worden om aan de lopende banden hun werk te doen. Deze tijd is definitief voorbij.
In de pubertijd gaat het om doen, ervaren en uitproberen. Kennis verzamelen is dan niet echt aan de orde. Die kennis kan men veel beter verkrijgen door te reflecteren. Reflectie vindt plaats als er iets mis is gegaan.
Aangezien kennis zeer snel verandert is het niet zinvol meer om preventief veel kennis te vergaren. Kennis kan just-in-time worden verkregen als men praktisch in de problemen zit of overzicht nodig heeft. Ze heeft dan ook een veel hogere retentie.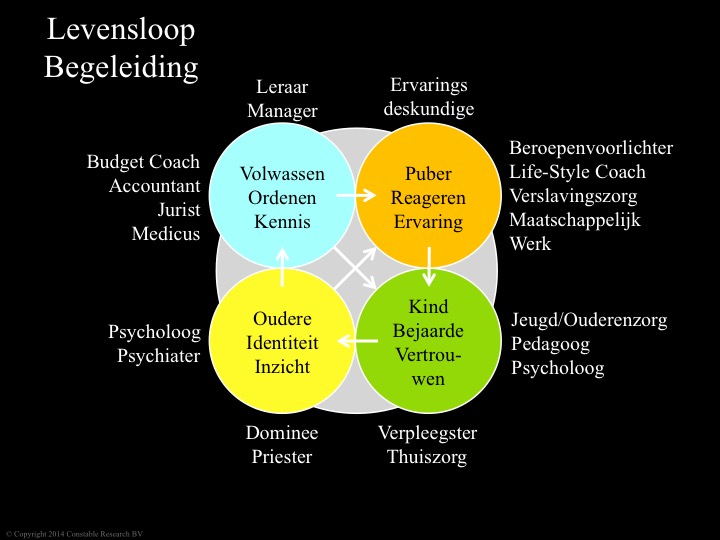 In de nabije toekomst gaan instrumenten of zichzelf bedienen of krijgen een simpel user-interface dat de gebruiker vertelt wat hij moet doen.
In de productieve fase (volwassenheid) wordt de mens bestuurd door en maakt hij gebruik van regelsystemen ("het"). In deze periode wordt hij geacht een buffer op te bouwen voor de tijden dat er niet kan worden geproduceerd. Een volwassen zorgt in eerste instantie van zijn leven voor zijn kinderen (en soms partner) en later voor zijn ouders.
6. Het Begeleidingssysteem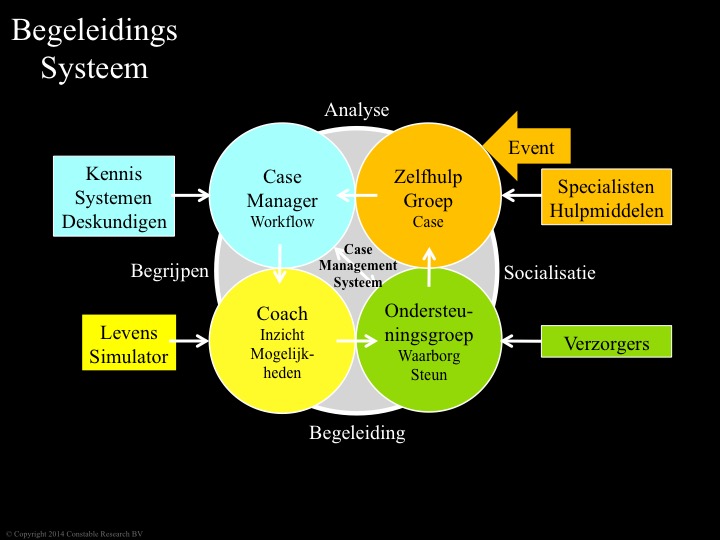 Ondersteuningsgroep
Rondom ieder individu wordt een sociaal netwerk gevormd dat bereid is om elkaar te helpen en indien nodig ook te waarborgen. In het algemeen bestaat dat netwerk uit naaste familieleden en vrienden. Het is de bedoeling dat deze groep zo vroeg als mogelijk is in het leven wordt gevormd en zo lang als mogelijk in stand blijft. Denk daarbij ook aan de oude functies van meter en peter.
Coach
Een Coach is een persoon die over praktische levenswijsheid beschikt. Het is iemand die zijn/haar loopbaanpad heeft verlaten en zich als vrijwilliger aanbiedt aan mensen die steun nodig hebben in het leven. Coaches kunnen door een persoon of door zijn ondersteuningsgroep worden gevraagd om te helpen. Een ondersteuningsgroep is een absolute randvoorwaarde om aan de slag te gaan. Een coach kan gebruik maken van een simulator om mogelijkheden te onderzoeken.
Case Manager
Een case manager is een rol die er voor zorgt dat een dringend probleem wordt opgelost. Case managers kunnen zich in allerlei instanties bevinden en kunnen daardoor fors langs elkaar heen gaan werken. Het is de taak van de coach om de probleemhebber (zijn "maatje") te helpen om een dergelijke situatie te vermijden of te corrigeren.
Case-Management Systeem
Alle betrokkenen maken gebruik van één Case-Management-Systeem (CMS). Een CMS is een procesmanager die op basis van condities zijn werk kan doen. Met behulp van dit systeem kunnen afspraken worden vastgelegd maar ook andere partijen betrokken en aan hun afspraken worden gehouden.
Zelfhulpgroep
Een zelfhulpgroep is een groep mensen die in vergelijkbare omstandigheden heeft verkeerd en bereid is om anderen te ondersteunen met praktische raadgeving. Mensen kunnen deelnemen aan meerdere groepen.
Case
Een case is een gestandaardiseerd beschrijving van een situatie in combinatie met een niet gestructureerde beschrijving. In het laatste geval lijkt het op een dagboek.
Cases kunnen problematisch zijn en om een oplossing vragen maar ze kunnen ook een beschrijving zijn van een gebeurtenis (bv. een ongeluk, een ziekte, een verhuizing, een aankoop). Cases worden gebruikt om een kwalitatief historisch overzicht te krijgen eventueel aangevuld met kwantitatieve informatie. Cases worden zoveel als mogelijk is automatisch aangemaakt.
Verzorgers
Indien een ondersteuningsgroep onvoldoende tijd en mogelijkheden heeft om de benodigde hulp te bieden kan externe hulp worden opgeroepen. Die wordt toegevoegd aan de groep en communiceert ook met de groep.
Specialisten/Hulpmiddelen
Indien nodig kan een case manager tijdelijk of permanent specialisten of hulpmiddelen toevoegen om de case op te lossen.
Kennissystemen/Deskundigen
Indien nodig kan een case manager tijdelijk of permanent deskundigen en kennissystemen tijdelijk of permanent toevoegen om de case op te lossen.
7. Financiering van de Levensloop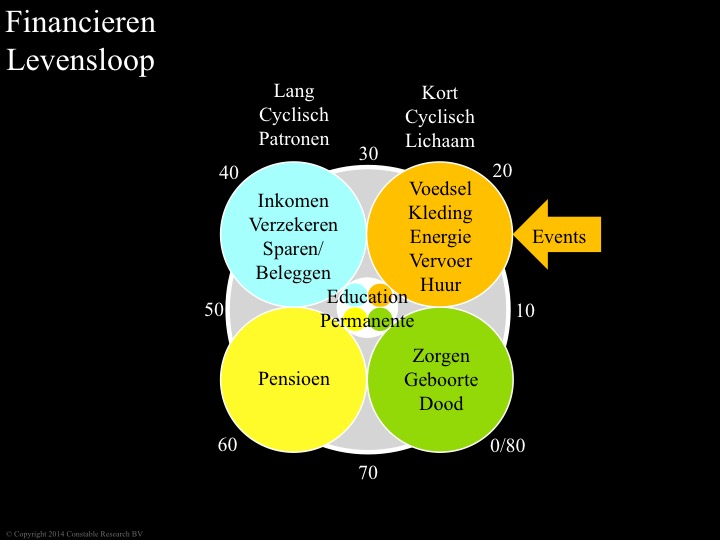 Het lichaam is verbonden met kort cyclische zon- en maanritmen zoals de dag, de maan/maand en het jaar (de seizoenen). Het gedrag is meetbaar (sensors), sterk voorspelbaar en daardoor budgetteerbaar mits er geen sprake is van verslaving, de behoefte van het lichaam om eindeloos te genieten.
Het complement van het lichaam, de geest, zoekt zekerheid en zoekt en formeert voorspelbare lange termijn patronen (soms een onderneming genoemd) die zich tonen in de vele economische cycli (Kitchen, Juglar, Kuznets, Kondratiev, …).
Aangezien de patronen onderhevig zijn aan verstoringen moet men ze niet als een absolute zekerheid gaan hanteren. Cycli herstellen zich altijd weer.
De korte cycli moduleren op lange cycli en hebben een voorspelbare verhouding (één Kondratieff = drie Kuznets= zes Juglars = twaalf Kitchens).
De Kontratiev-cyclus duurt +/- 54 jaar wat betekent dat de gemiddelde mens in zijn leven altijd profiteert van voorspoed en tegenslag. Dit betekent dat men met behulp van een lange termijn planning en een adequaat sociaal netwerk de cycli ongehavend door kan komen.
Sommige mensen hebben last van teveel geluk, teveel ongeluk, teveel passie of teveel wantrouwen om flexibel om te gaan met de toekomst.
In dat geval kunnen er voor deze mensen ondersteunde systemen worden ontworpen die zowel het geluk als het ongeluk delen door elkaar een waarborg te verlenen of elkaar te helpen in het besturen van het levenspad.
8. Smart Computing: De Mens in de Machine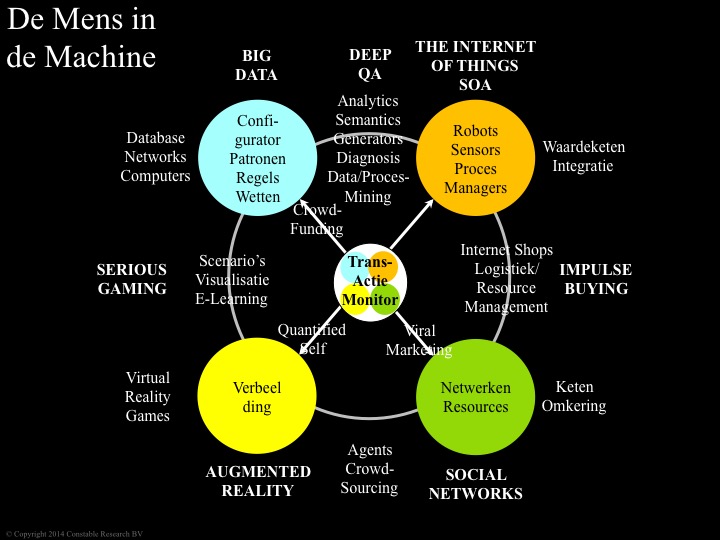 Software gaat steeds meer psychische functies van de mens overnemen waardoor er uiteindelijk volledig autonome systemen zullen komen.
Op dit moment zijn vooral patroonherkenning (Big Data) en sensors gekoppeld aan procesmanagers ('robots") bruikbaar.
In de volgende stap kan de mens zich gaan koppelen aan zeer krachtige simulatoren die aan de ene kant de buitenwereld voorspelbaar zullen maken ("Early Warning") en aan de andere kant een persoonlijke fantasiewereld ("het Holodeck") kunnen maken waarin de mens eindeloos kan doorbrengen.
In de laatste fase kan de mens zich voorzien van lichaamssensors die het onbewuste zullen gaan ontsluiten.
Producten zullen worden gestandaardiseerd middels onderling gekoppelde product-configurators waarmee de klant kan gaan spelen (of andersom).
9. Van Coöperatie naar Banking Robot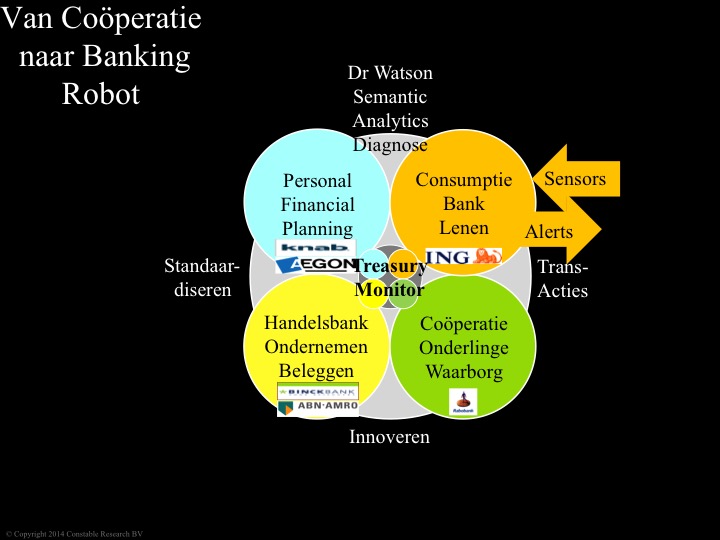 Bankieren is heel oud. In de code van Hammurabi (1700 v Chr) werd er al gesproken over verzekeren. Rond 1200 ontstonden in Italië de handelsbanken.
De Treasury voortgekomen uit het graanpakhuis van Hammurabi is de functie binnen de bank die moet zorgen voor de levensloopbegeleiding van de bank door te zorgen voor een goede balans tussen sparen (productie) en lenen (consumptie) op zowel de korte- als de lange termijn.
Bankieren was tot 1900 uitsluitend voorbehouden aan de welgestelden. Rond die tijd ontstonden er twee nieuwe bankvormen die zich gingen richten op het vergaren van vermogen onder de minder draagkrachtigen (Giro & Postspaarbank) en het besturen van collectieve bedrijven en het dragen van collectieve risico's (Raiffeisen, de Coöperatie of Onderlinge Waarborg Maatschappij).
De Consumptiebank (Bank van Lening) kreeg een enorme impuls toen de arbeiders in de jaren zestig verplicht werden om een salarisrekening te openen. Vanaf dat moment raakten de Nederlanders hun vrees om te lenen en te spenderen kwijt. Deze ontwikkeling werd natuurlijk sterk geholpen door de opkomende Kondratieff-golf.
Aan het eind van 20e eeuw hebben de banken geprofiteerd van de verder oplopende economie en hebben daarbij vergeten om een geldvoorraad voor de slechte jaren op te bouwen. Dit geldt natuurlijk niet alleen voor de bank zelf maar ook voor zijn klanten.
Rond 2000 op de top van de golf werd door de ontwikkelaars van de handelsbank Binck-Bank, Knab gelanceerd als een nieuwe vorm van klantgericht bankieren (Personal Financial Planning).
Knab probeert om de nieuwe mogelijkheden van de IT-technologie ten volle aan te wenden. Tot op heden slaat deze moderne vorm van bankieren niet erg aan omdat de klant de diensten te duur vind. Het grootste probleem is natuurlijk dat deze bank geen aansluiting krijgt bij de duurzame socialen, de expanderende genieters en de comprimerende zekerheidzoekers.
Het ligt in de lijn der verwachting dat rond de tijd van de Singularity de bank zich zal hebben getransformeerd in een begrijpend pratende alleswetende bankrobot die perfect waakt over de belangen van de klant. De teerling voor een Dr.Watson-bank is deze maand door IBM samen met de DSB-bank in Singapore geworpen.
Het lijkt er op dat deze ontwikkeling wel eens sneller kan gaan dan men denkt omdat IBM wederom een miljard dollar heeft gestoken in de toepassingen van zijn Dr.Watson-technologie. Deze investering zal vooral worden besteed aan het verbeteren van de medische Dr.Watson.
Dr. Watson ook wel Semantic Analytics genoemd kan in korte tijd eindeloos veel kwalitatieve (tekst, plaatjes) en kwantitatieve data tot zich nemen, patronen ontdekken,  logische redeneren en praten.
Om de uitdagingen van de komende cyclus-periode aan te kunnen zullen de banken zich moeten gaan concentreren op het balanceren van hun eigen geldvoorraden en daarmee ook de waardenvoorraden van hun klanten. Dit kan alleen als ze zich gaan bezighouden met de volledige levenscyclus.
Dit betekent dat een bank niet alleen alle soorten dienstverlening moet gaan bieden maar ook alle soorten banken onder één noemer moeten zien te brengen.
In dat kader zal de bank ook weer een sociale kant moeten gaan tonen.
We hebben gezien dat deze kant van het bankwezen zich in het verleden heeft getoond in de coöperatie en de waarborgmaatschappij. Deze banktypen zijn grotendeels verdwenen en hebben zich getransformeerd in een "normale" bank en verzekeraar waarbij de inbreng in het beleid van de klanten niet groot meer is.
Het herstellen van de klantbetrokkenheid (zie Knab) is een "hot issue" en "customer co-creation" staat hoog in de trend top tien.  Daarnaast rijst het aantal nieuw opgerichte kredietunies de pan uit en is de regering al druk bezig om deze vorm van onderlinge solidariteit een wettelijke basis te geven.
Het ligt dan ook voor de hand om onderlinge solidariteit ("de naaste") weer als uitgangspunt te nemen voor de mensen die dat willen en dat zijn de mensen met een sociale persoonlijkheid.
10. Integrale Gezondheidszorg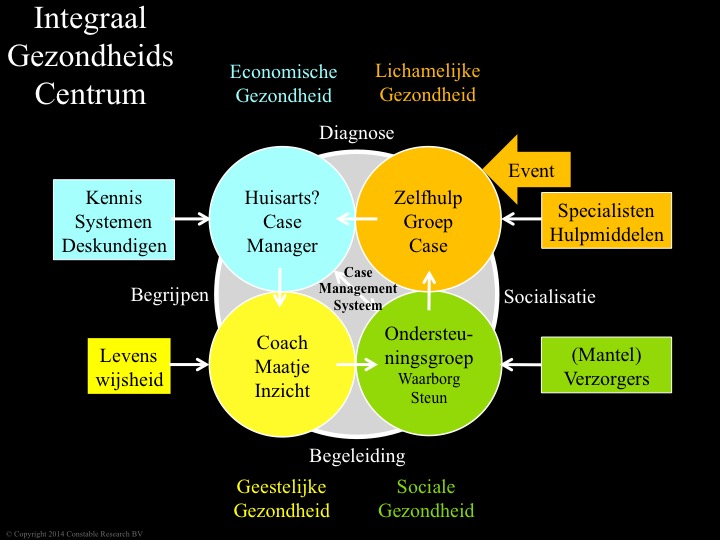 We zijn weer terug bij het verdwenen bankkantoor in de wijk. Het stond in een winkelcentrum waar inmiddels door de snelle opkomst van de Internetwinkels alleen nog de lichaamsgerateerde kort cyclische retail aanwezig is.
De kans is groot dat die zich zelfs op den duur terugtrekt als de winkel-logistiek zich volledig heeft aangepast aan het aan huis bezorgen.
Vaak is zo'n winkelcentrum gekoppeld aan een gezondheidscentrum dat zich nu ook druk moet gaan maken over de psycho-sociale zorg. De overheid heeft bedacht dat de huisarts in de wijk in samenwerking met de wijkverpleegkundige moet gaan optreden als personal case-manager.
Opvallend is dat de economische gezondheidszorg (de armenzorg) nog grotendeels een kerkelijke aangelegenheid is. Er zijn vele organisaties die de hulp van levenswijze "maatjes" aanbieden om mensen te helpen ook economisch orde op zaken te stellen.
Wat tot op heden nog volledig ontbreekt is een integrale benadering. De vele professionele hulpverleners ("de sociale kaart") en vrijwilligers werken notoir langs elkaar heen,  het aantal specialismen is sterk gegroeid waardoor ieder probleemhokje een eigen loket heeft en men kan door de soms zeer complexe vaktaal moeilijk onderling communiceren.
Wat vaak wordt vergeten is dat er naast hulpverleners en vrijwilligers ook nog commerciële partijen zijn die belang hebben bij een gezonde medewerker of klant.
Die belangen worden bij voorbeeld gedragen door Arbo-diensten, Verzekeraars en Banken die schadeclaims moeten afhandelen en natuurlijk ook voorkomen. Een vergaande samenwerking rondom het wijkgebonden integrale gezondheidscentrum ligt voor de hand.
Het is hierbij van belang om te beseffen dat de technologie veel werk uit handen kan nemen zodat de mens zich volledig kan richten op het persoonlijk contact zowel in de vorm van een gesprek als van de zorg zelf (totdat de zorg-robot zich aandient).
11. De Zelf-Ontplooiende Stad
Een stad is een verzameling gebouwen, waarin mensen samenwonen, werken, worden verzorgd of plezier maken. De mensen en de gebouwen zijn verbonden door allerlei soorten netwerken (energie, vervoer, telecommunicatie, sociale netwerken, waardeketens, ..).
De stad kan net als het Integrale Gezondheidscentrum verdeeld worden in vier onderling verbonden onderdelen n.l Besturing, Bedrijvigheid, Sociaal en Cultureel.
Boven de Stad kan een Monitor worden gedefinieerd die erg veel lijkt op het menselijke bewustzijn. De Monitor moet er voor zorgen dat de verschillende onderdelen niet te dominant worden.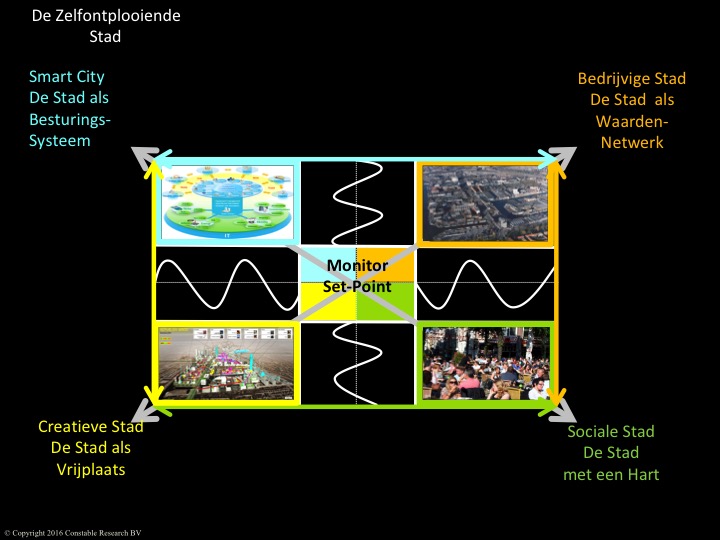 De vier onderdelen kunnen weer worden opgesplitst in vergelijkbare onderdelen waardoor er in totaal (1+4) x 12 = 60 onderdelen kunnen worden gedefineerd. Die onderdelen kunnen als nodig is nog veel dieper kunnen worden opgedeeld als we de mens weer opsplitsen in bijv. organen en de organen weer in cellen. Op ieder niveau gelden dezelfde wetten.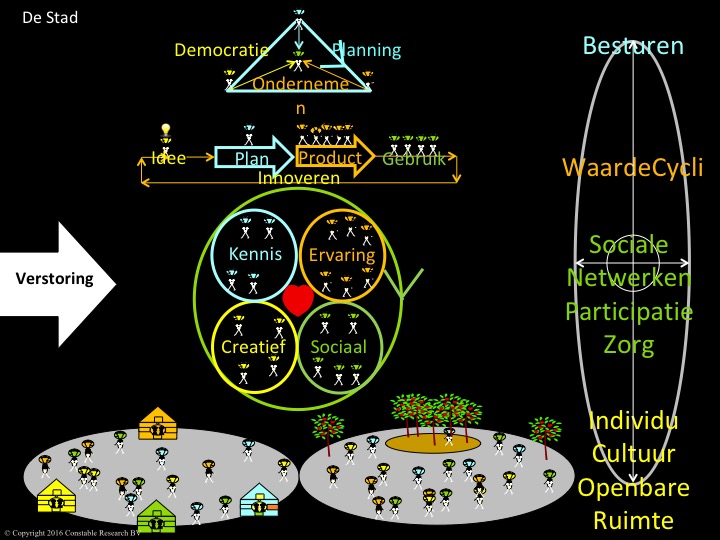 LINKS