In 1979 Andrew Ortony was the editor of the book Metaphor and Thought. It contains contributions of John Searle, George Lackoff and Thomas Kuhn.
The book started a revolution in cognitive science later called "Embodiment". The embodiment-movement has proven that metaphors are "the Tools of the Unconsciousness" or the "Foundation of Thinking".
One of the most important articles in the book is written by Micheal Reddy. Michael Reddy demonstrates that 70% of the English language is conceptualized and structured by the conduit metaphor. This percentage is increasing.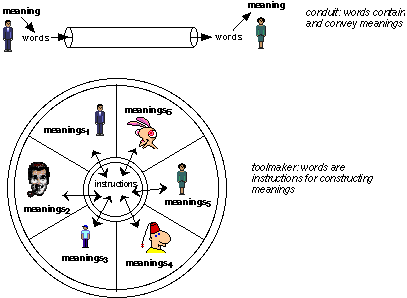 This metaphor incorporates three interconnected metaphors:
Concepts, thoughts, feelings, meanings, sense and ideas are objects.
Words, sentences are containers.
Communication is the act of sending and receiving a container.
The Conduit Metaphor transforms Communication (the Act to Commune, to Fuse) in a Dual Monologue between two Senders.
Later (1988) Andrew Ortony was the author of another collection of articles about the Emotions (The Cognitive Structure of Emotions). The book contains a widely used model of the Emotions.
The model shows that Humans have the tendency to define an Intelligent Agent behind every thing that happens (an Event). The Weather is a person ("the wind blows") and the Creator behind "every thing" is a person (God).
Computers are seen by Humans as Highly Intelligent Agents that use the Conduit Metaphor to communicate. When a Computer starts to commu-nicate it sends a Message and the User has to respond.
The User creates a Container ("type a sentence", "push a button", "click a mouse"). The Computer responds by sending his Containers (text and/or pictures, "CON-tent") back. Computer and User are participating in a dual monologue we experience as commune-nication but …..
In reality the Computer is not a Human Being and unable to act as a Human Being.
It is unable to Adapt so we have to Adapt.
Internally we believe Computers are Very Smart and when things go wrong we, "the users",  have pushed the wrong button, have send the wrong text or have installed the wrong version of the software.
The Computer is Smart and we are Stupid.
The Computer is not only Smart. He is also unable to understand "Who I Am". He uses "Stereotypes" and he never adapts itself to "Me".
I have to adapt to him.
The Computer acts like an Autist.
When we try to commune-nicate with an Autist we get frustrated. But because he is mentally ill we have to accept "he will not change".
We have to Cope.
Coping is a method to escape problems we are unable to remove. We have to cope with the Computer that Acts like an Autist.
The only thing that is left is to reduce our Stress. We reduce our Stress by discussing the stress with our friends. When we do this we feel a lot better because we discover that we are "not alone".
The Autistic Computer generates many discussions and these discussions are Dialogues. They bring us (the Not-Machines, the Organisms) closer to each other. To solve our problems we start a Path of Mutual Discovery.
We solve many problems by exchanging tips and tricks.
Michael Reddy shows that 30% of the English Language can be described by another Metaphor, the Toolmaker Metaphor. The Toolmaker Metaphor is about cooperation, mutual discovery and the exchange of "tips and tricks".
The Toolmaker Metaphor is connected to an old "Paradigm" that is slowly fading away in our current Society.
In the Toolmaker Metaphor Humans are unable to understand the other. We are all living in our "own unique private universe". This Universe is What We Are. In our own universe we develop all kinds of private tools.
In the middle of all of the universes is a post-box. In this box we share pictures (ideas) with other universes. When we find a picture we interpret this picture in our own universe. We understand something because without "knowing" we share a lot.
We are also cooperative because without cooperation we are Unable to Survive.
We need the others. So we send a picture back with adjustments. We are very proud that we have developed a tool that is doing his job in our own Context.
"It really works" and we want to Share our excitement. At the other side the same happens and step by step we develop shared tools.
In the toolmaker-metaphor the Tools are an Extension of the Human. They are an extension of our muscles, our senses, our memory, our emotions or our imagination.
When new extensions are developed we have to integrate the tools with our own private internal tools. We do this by practicing. When we have practiced enough we become One with the Tool.
We Commune.
We ARE our cars, we ARE our Glasses or we ARE our Piano. When the tools are doing their job we even forget that we are using them. We are in deep trouble when our tools fail. Suddenly we are aware of the interdepence between our bodies and our tools.
When we see a computer as a human tool we have to define what part of us we want to be EXTENDED.
When we accept that the Computer is an Autist we have to accept that he is excellent in only one thing. He is an Idiot Savant.
Autists love to Repeat the same Task and most human don't like repetition.
Let us give the repetitive tasks to the Computers so we can start to PLAY (Simulators!).

When we accept our selves we have to accept our shortcomings.
When we use the Idiot Savant to help us to overcome our shortcomings we are in a complementary relationship.
We are Friends for Life.
LINKS
About Emotional Architectures (Dutch)
Tags: Andrew Ortony, book, book metaphor, Computer, Con, conduit metaphor, Embodiment, emotions, George Lackoff, God, John Searle, Metaphor, Michael Reddy, Micheal Reddy, Reddy, Thomas Kuhn, Toolmaker Metaphor